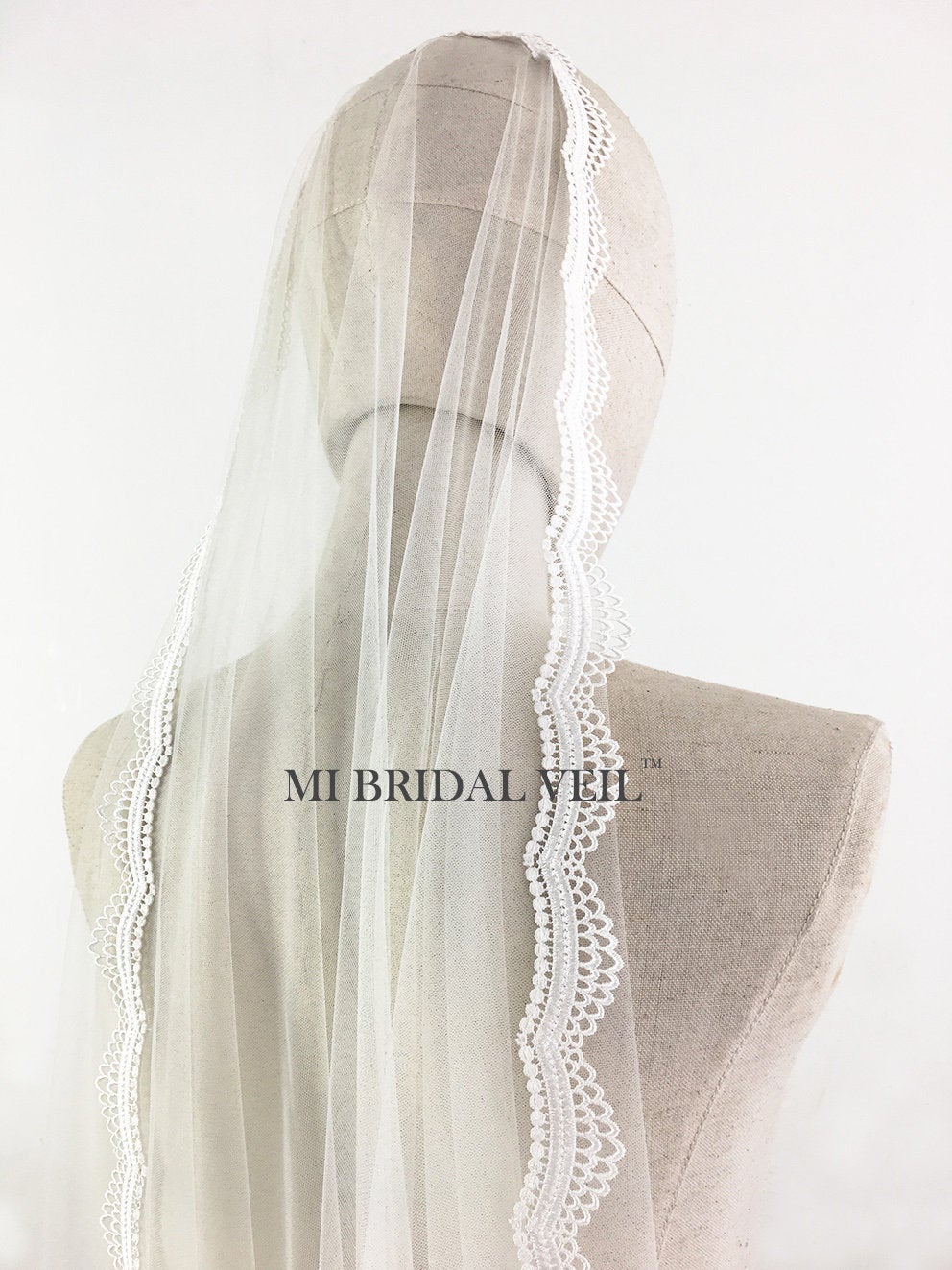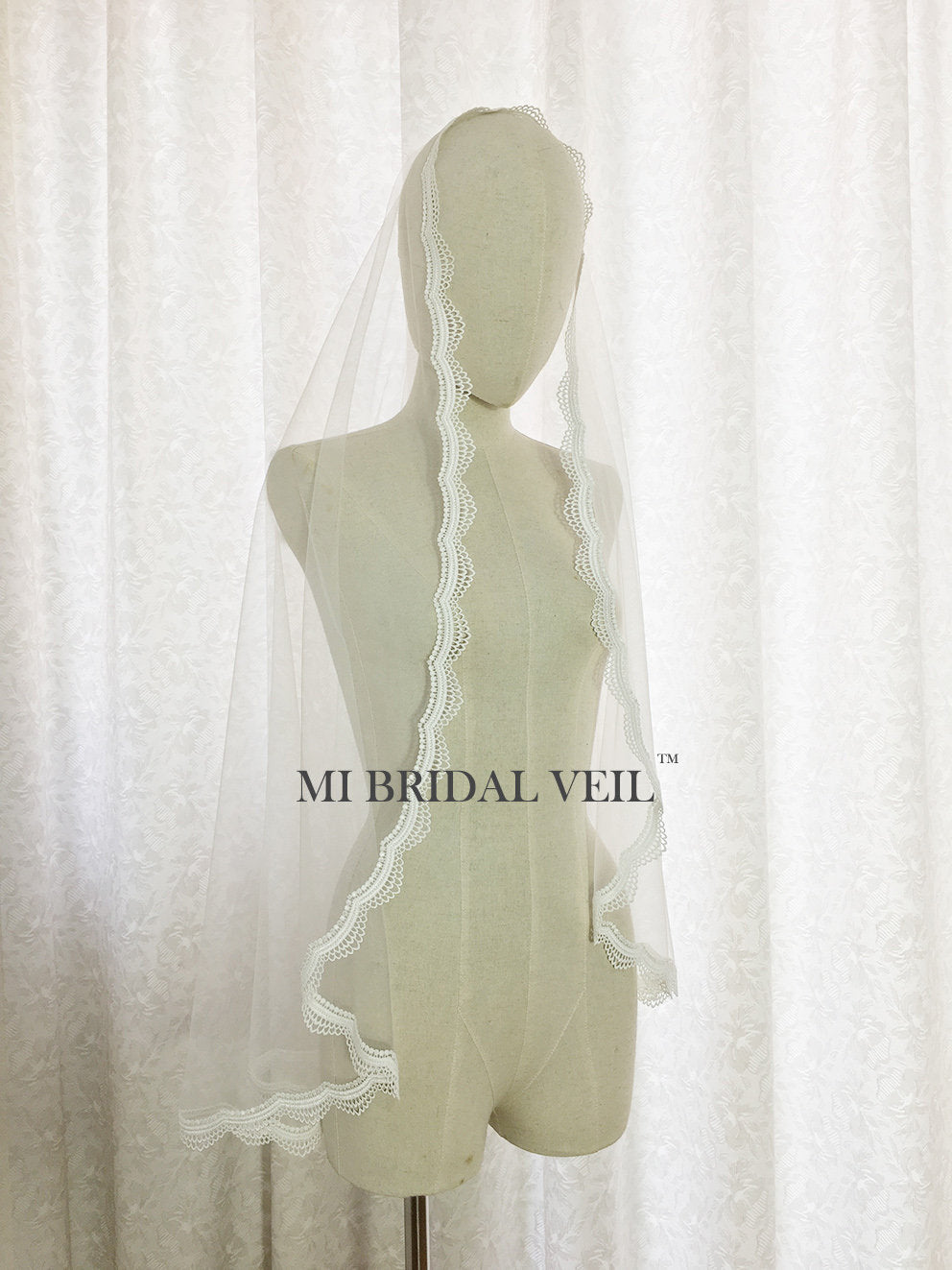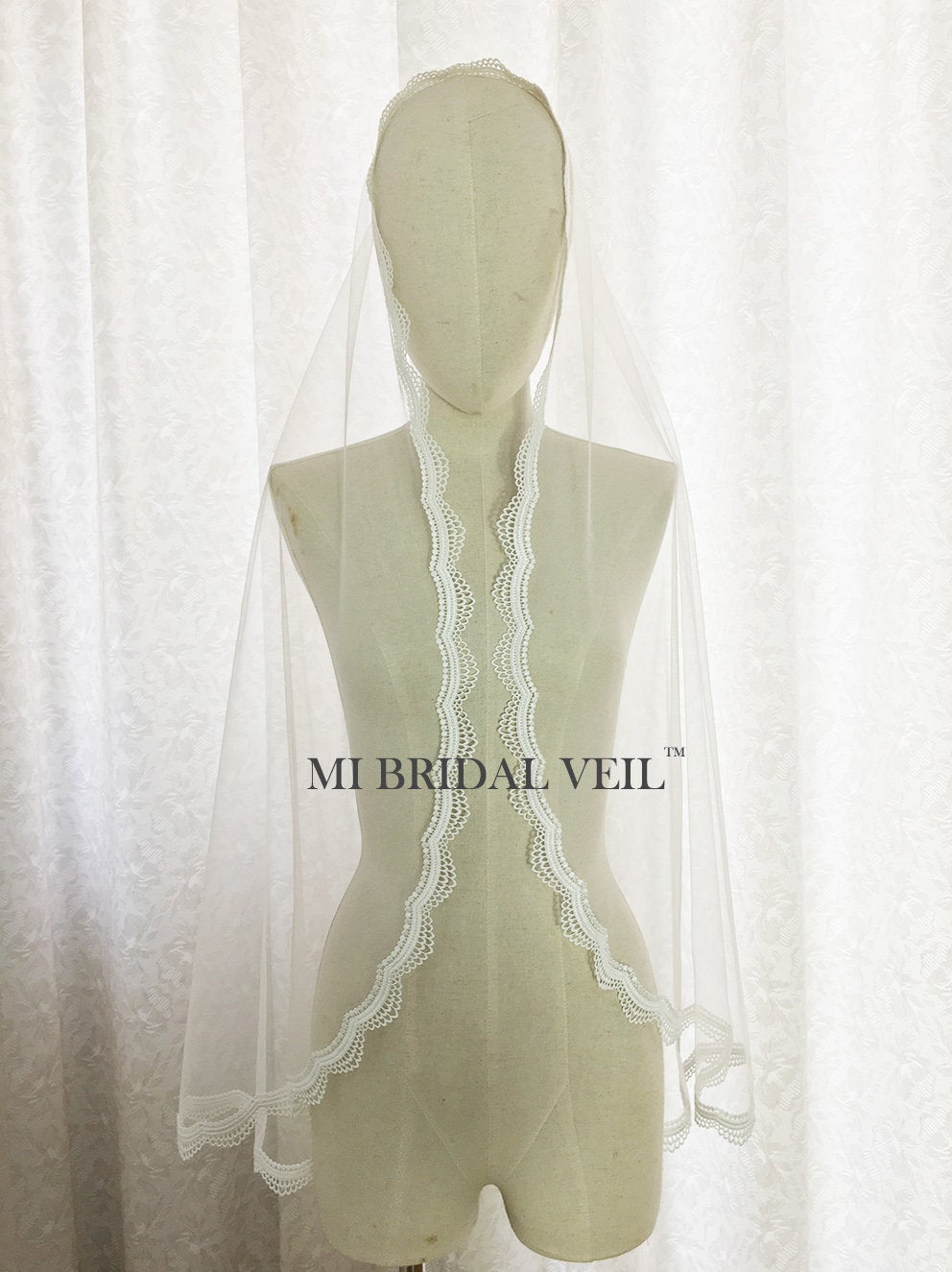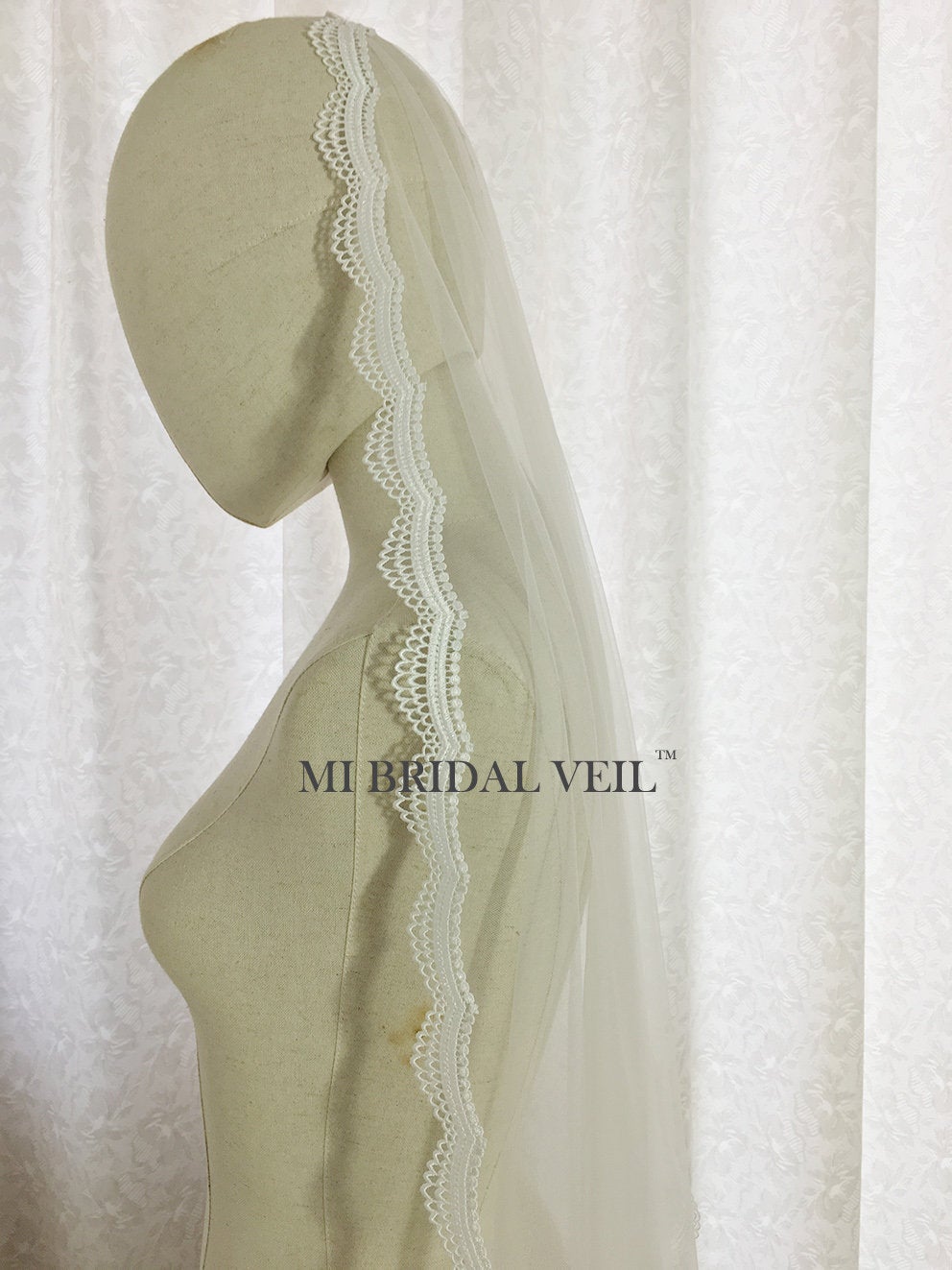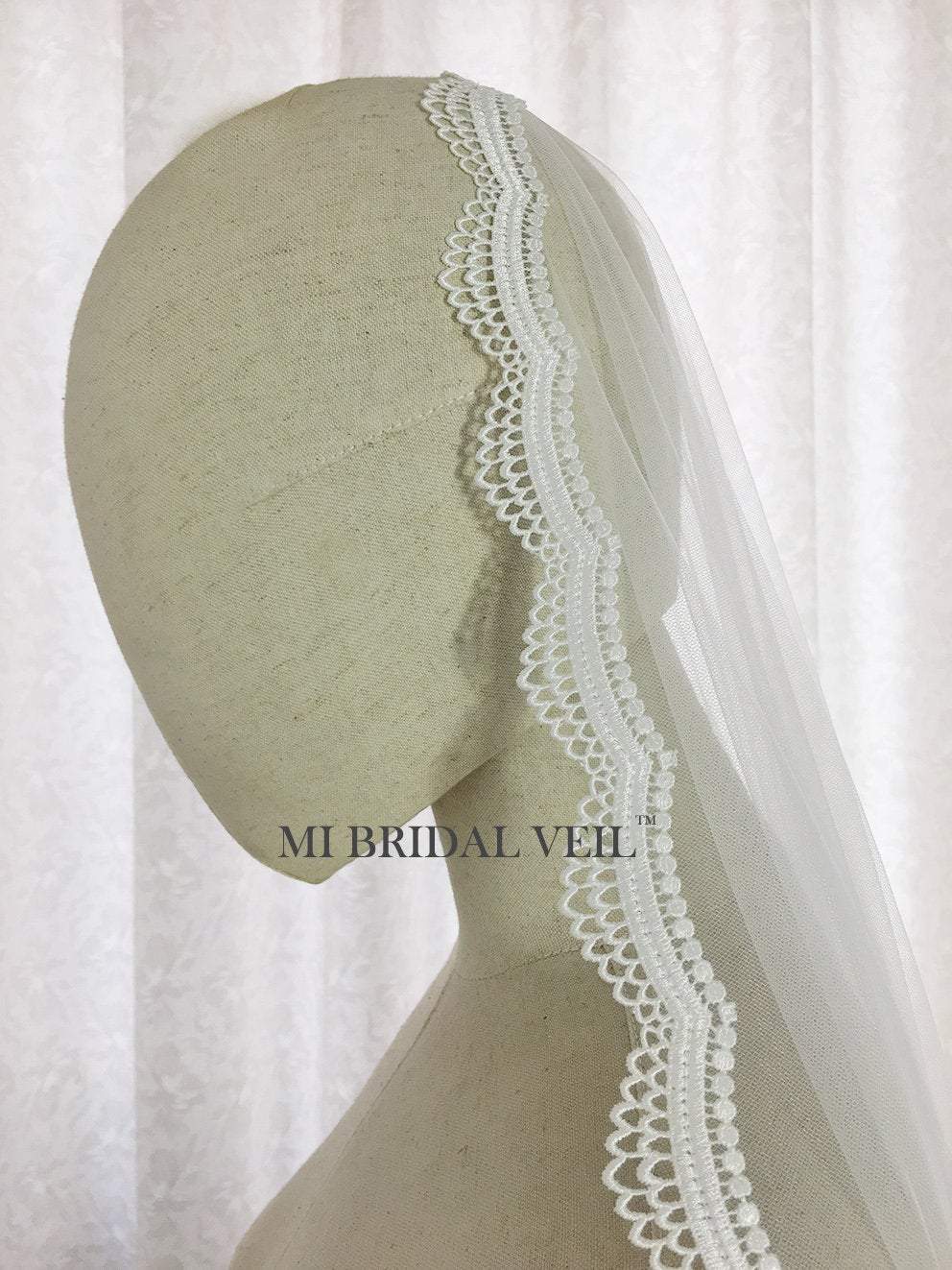 MiBridal
Mantilla Lace Wedding Veil, Crochet Venice Fingertip Lace Bridal Veil, MI BRIDAL
❖Description
Mantilla Veil, Lace Wedding Veil, Crochet Lace Veil, Venice Lace Veil, Small Lace Veil, Fingertip Lace Veil, MI BRIDAL 
Elegant small venice lace veil--this stunning veil is made with scallop venice lace and very soft bridal illusion tulle which allowing your dress to see through. The lace pattern is designed in simple scallop pattern yet vintage inspired. SUIT most plain chiffon/satin wedding gowns or gowns with edges of scallop design.
It is full piece style so brides can wear the veil in mantilla or drop style. I sew a metal comb on it so it is easily to put on hair. Listing shows an elegant 42inch fingertip length.
***Before I sew the lace on veil, I cut the edges of lace neatly, this is the thing most sellers won't do, every piece of my veil is fancy with all care and love.*** If you want to sew some sparkle beading on veil, please contact me for more details.
❖Lace Veil Length

35inch Hip Length
42inch fingertip length
52inch Waltz Length
60inch longer Waltz Length
79inch Floor Length
90inch longer Floor Length
98inch Chapel Length
118inch and 138inch Cathedral Length
Custom length is acceptable
❖Lace Veil Details
Veil Color:
White: diamond white
Ivory: it is off white ivory, because most wedding dresses are off white actually; if your wedding dress is yellow shade ivory, please inform me after ordered, then I will choose the correct color accordingly.If you are not sure about the color of your wedding dress, please contact me for more information.
Fabric:
Mi Bridal Veil uses finest Soft sheer tulle and high quality lace.
Packing:
Each veil is packed in box carefully. I will ensure the safety of items during shipping.
❖Shipping

It takes 1-2 weeks to make, 2-4 weeks for Standard Shipping or 3-5 days for Express shipping, please choose the shipping way you prefer when checkout.
If you need rush, please contact us at: sales@mibridalveil.com
.
**PHOTO by Eric He, COPY RIGHT RESERVED by MI BRIDAL VEIL**